The GameDev Business Handbook
A faithful companion and how-to guide for your growing studio, featuring interviews with dozens of experienced developers
The GameDev Business Handbook is a deeply researched instructional guide for creating and sustaining your independent video game studio. Designed from the start for both students and experienced developers who want to get a better handle on a totally, completely, super-not-glamourous, mundane, but necessary side of game development.
Built with love, The GameDev Business Handbook is crafted with guidance from game industry veterans: those who produce games, attend every show, help other developers every day, and aspire to support a better environment for game production. These are the experts who make the games industry a better place for the next generation.
This isn't a "get rich" book that's going to tell you how to find "fame and fortune."
(Sorry.)
This book is for those who work hard, but may not have access to the network that comes with being in the industry for over a decade. We worked to make sure it was accessible, while avoiding sugarcoating a complex industry. Many of the elements in The GameDev Business Handbook aren't taught until masters programs in business and aren't sexy enough for conference presentations.
During the months-long interview process for The GameDev Business Handbook, we spoke with more than 25 prominent members of the industry currently working in development (some of whom just released their latest games), publishing, media, and law. They include:
Ninja Theory's Nina Kristensen (Hellblade: Senua's Sacrifice, Heavenly Sword)
Vlambeer's Rami Ismail (Nuclear Throne, Ridiculous Fishing)
Capybara Games' Nathan Vella (Super Time Force, Superbrothers Sword and Sworcery EP, Critter Crunch)
Romero Games' Brenda Romero (Wizardry, Jagged Alliance series… and a lot more over a multi-decade career)  

Video game attorneys Ma'idah Lashani, Michael Lee, Brandon Huffman (Odin Law and Media), and Jas Purewal (Purewal & Partners)

Klei Entertainment's Jamie Cheng (Don't Starve, Mark of the Ninja)
Supergiant Games' Amir Rao (Pyre, Bastion)
Harebrained Schemes' Jordan Weisman (BattleTech, Shadowrun series)

Publishing decision makers from Paradox Interactive, Devolver Digital, Raw Fury, and Adult Swim Games
The Handbook features expert guidance and in-the-trenches anecdotes on budgeting and finance (complete with downloadable worksheets), incorporation, press, contracts and employment, intellectual property, public relations, and more.
If you're considering crowdfunding, early access, or pursuing a licensed property,
The GameDev Business Handbook
includes best practices, success stories, and cautionary tales from those who have been where you want to go.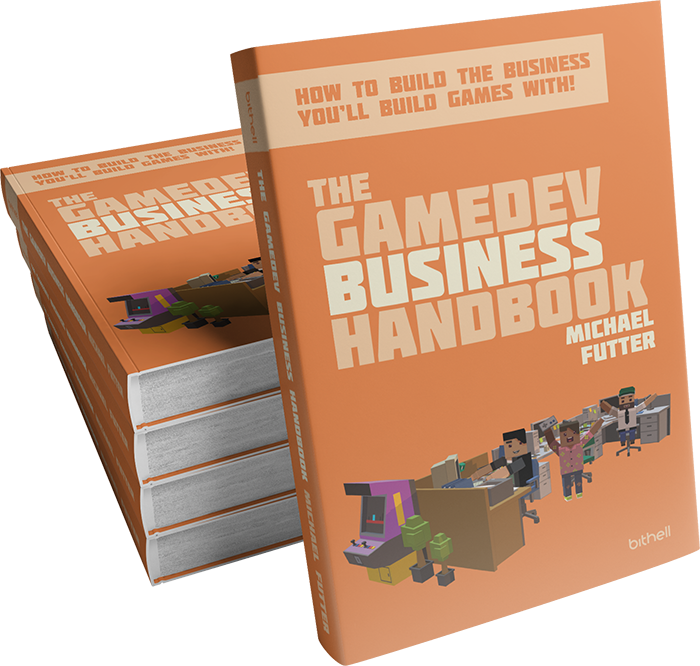 A little taste of what's inside:
Cleaning up your personal finances (and why you should before building a business)
The right way to approach budgeting (complete with the tools to build your first budget)
Hiring employees thoughtfully (and in compliance with the law)
What to expect from publishing agreements and how the money flows
A deep dive into intellectual property and the myths surrounding "fair use"
How to properly budget for crowdfunding and structure your campaign
What early access can do for you (and what it can't)
How licensing agreements work
How to talk to a wide audience, follow up appropriately, and conduct effective interviews with the media
The NEW GameDev Budgeting Handbook (Available NOW!)
An extension of the The GameDev Business Handbook budgeting chapter and expansion of the digital supplements we've made available (right at the top of the page! 🙂 ), this digital-only book dives through a project budget and shines a light on the various costs involved. Featuring all new interviews with those out there doing the jobs, the new book covers…
Getting started with budgeting
Figuring out if your budget is reasonable
Determining whether you should hire an employee or contractor (with legal considerations for US, UK, and Canadian employers)
Understanding what publishers will pay for and what you'll need to handle on your own
Learning about paying for music in your game
Contracting with voice actors and understanding related costs
Finding the right fit for your PR and marketing needs
All the tools and subscription fees that add up quickly
Understanding when to talk to an attorney and accountant along the way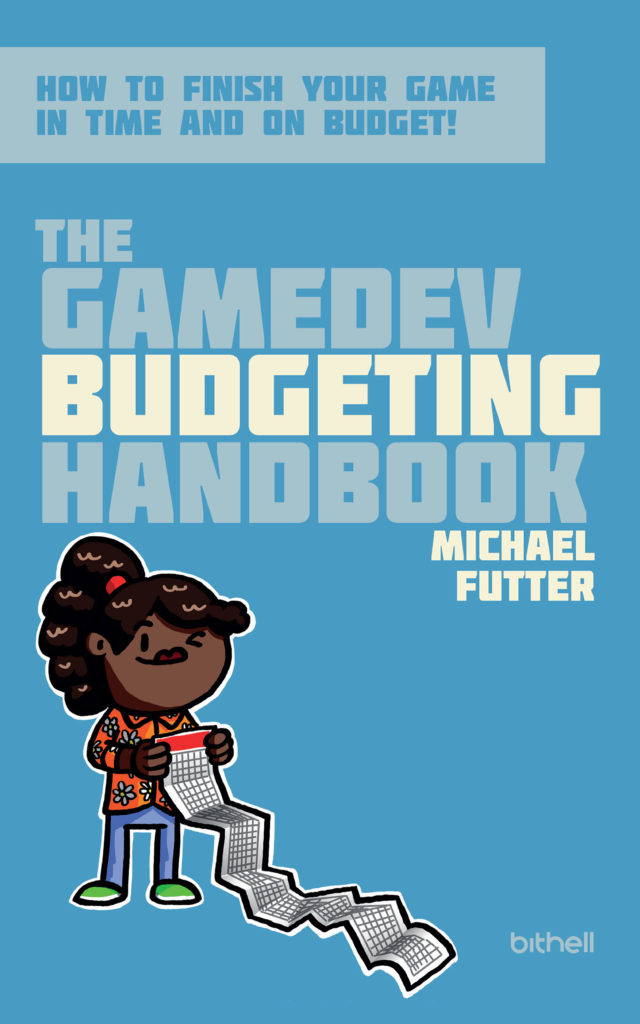 Get updates about The GameDev Business Handbook.
No spam, ever. Emails are never shared.
The Author
After leaving behind a career in nonprofit funding, Michael Futter put his MBA to work as a journalist covering business and legal issues.
During that time, he wrote countless stories about independent developer successes (many of whom are featured in his first book, The GameDev Business Handbook). Michael lives in New Jersey with his family.
"There's an infinite amount of information available on the internet about the business of independent game design, and you could spend half of a decent games' development time scouring the internet, reading articles, and figuring out what information is relevant and accurate. Or, you could just read this book, which has already done all of that work for you."
– Rami Ismail, Vlambeer
The hidden costs of delaying (and why you might do it anyway)
Delays have obvious costs. You'll be spending your monthly burn (total company expenditures) for more time than anticipated. You may need to hire and on-board new contractors, because the ones you've been relying on previously committed to starting work on other projects.
If you're planning a retail release, you may also lose your spot on the manufacturing line. At some points in the year, pressing a disc and assembling can take three weeks. Get into the busy fall season, and that turnaround could balloon to five or six weeks.
Delaying into a busy period could also seriously impact your time in console certification. The process can take up to a month, and you can't release your game on a platform (download or retail) until you get the green light from first-party (the console maker).
All of these timeline busters have a direct impact on your revenue. The longer it takes to get your game in digital stores or on retail shelves, the longer it is before your bank account starts to fill. It would be tragic if you had to lay people off or delay work on a patch or content update because you didn't account for the gap between release and earning revenue. [cont]
Intellectual property laws vary by region
Intellectual property systems exist around the world, but legal standards vary by country and region. Despite complexity, there are some fundamentals of which you should be aware.
In most countries, copyright protection is automatic, but Jas Purewal of Purewal and Partners comments that some regions, including the United States and People's Republic of China, require active registration in order to receive full copyright protection.

Trademarks typically require registration to receive full protection in most countries. Purewal also cautions that registering for trademark protection in a specific region only serves as a shield in that territory. A trademark filing in the United States won't protect you in the UK, for instance. In practice, a decent baseline protection for most Western game developers is trademarking in the US and EU.

We mentioned earlier that patents for video game software are difficult to secure in the United States. It's even more challenging in the UK, European Union, and other regions (and the sizeable costs and lengthy timeframes often outweigh the potential benefits for everyone except large businesses).

In the United States, "publicity rights" give individuals control of their name, likeness, or other recognizable traits—like an actor's voice. [cont]
Inside out or outside in?
Founded in 2009, Supergiant Games has delivered two major hits in Bastion and Transistor. Both games have permeated the gaming landscape, making their way to a number of platforms, including PC, consoles, and mobile devices.
Supergiant originally launched its first title, Bastion, in Microsoft's 2011 Xbox Live "Summer of Arcade" promotion. Following that, the game went to Windows, mobile devices, and most recently in late 2016, Xbox One.
"For Bastion, a lot of the versions of the game that were released after the initial Xbox and PC version we did ourselves," says Supergiant studio director Amir Rao. "We started partnering with people on Transistor, and actually later did some partnership stuff on Bastion as well. We worked with BlitWorks, a company in Spain, for Bastion for the PS4, and then we worked with a company called Confetti in San Diego for Transistor."
Rao says that Supergiant approached each of these relationships differently, tailoring things to make things work with each partner. "In one case, the team took the whole thing all the way to cert and just took our feedback. In the other case, we actually worked on the game alongside the developer to do the additional versions of Transistor."
There's no hard and fast way to manage partnership development. The nature of the arrangement can even change during the project. [cont]
Frequently Asked Questions
How much does The GameDev Business Handbook cost?
The digital version costs $19.99. The hardcover (which includes the digital edition when purchased directly from Bithell Games) is slightly more at $29.99 (plus shipping).
Shipping costs are $7 in the United States. International shipping ranges from $17 to $25. We recognize international shipping costs are outrageous and we're working to resolve this issue in a direct manner. Unfortunately, this is the current situation. Apologies.
The digital version includes everything in hardcover (even the same layout), so all you're missing out on is the sweet smell of a good book.
We are also distributing The GameDev Business Handbook via Amazon in Hardcover and Kindle formats. Yes, you can use your Amazon Prime benefits (including free shipping with Prime) when you purchase the physical edition.
Note: When purchasing from Amazon, the hardcover edition will not include a copy of the Kindle or digital editions.
Why buy through Bithell instead of Amazon?
Buying direct from us means we're earning more on each copy sold, which means we can do more work like this. You're supporting what we're doing here in a more direct manner.
Who is The GameDev Business Handbook for?
Our primary audience is students and developers just starting out, but the advice in the book from veteran members of the industry is hopefully intriguing for a broader readership.
Who wrote The GameDev Business Handbook?
Michael Futter is the former news editor of Game Informer. There, he focused on business and legal analysis, tackling complex issues and making them accessible to a broad audience. He's teamed with Bithell Games to bring The GameDev Business Handbook to life.
What does The GameDev Business Handbook cover?
Glad you asked! Here's the table of contents:
Personal finance

Budgeting

Growing your studio

Organizational management

Production planning

Working with developer and publisher partners

Negotiation

Intellectual Property

Crowdfunding

Early Access

Working with licensed properties

Public and media relations

Crunch (How it hurts devs and why it's hard to kill)

Epilogue: Advice from the experts
How are you distributing The GameDev Business Handbook?
We have several options available: digital, hardcover (which includes a copy of the digital edition), Amazon Kindle and hardcover through Amazon (with Prime shipping). The digital edition is distributed via Gumroad.
Is there a difference between the Gumroad Library digital version and the Kindle version?
Yes. The Kindle version includes text with inline images, taking advantage of the Kindle e-reader's baked in features. The Gumroad digital version is a full-color PDF that mirrors the layout of the hardcover edition.
When will The GameDev Business Handbook be available outside the US, UK and Canada?
We recently ordered our second printing of the book, which will arrive by Summer 2018 (books take a long time to print and ship, y'all). We will open shipping to Europe at that time and add countries with demand. We recognize game development is a global passion without borders. The digital version is available globally and we will continue to work at easing access to the hardcover.
How is region-specific content being handled in the book?
Much of the guidance in the book is universal. However, some regional differences with regard to finance and law required more specificity. We consulted attorneys licensed to practice in the United States, the United Kingdom, and other European countries for expert advice. We are eager to bring more territories into the fold if success allows. Regardless of where you are located, most (if not all) of the content will apply to you.
The GameDev Business Handbook includes explanations where the law differs across regions.
Why is Bithell Games releasing a business book?
As we've built our business, we've run into our fair share of roadblocks, confusion, and outright terror. Books we've read on this subject are out of date (what even IS digital distribution?) and aggressively tough to read. We wanted the book we needed all this time to exist, and thanks to our lucky run, we had the resources to make that happen. Michael Futter was born to write this.